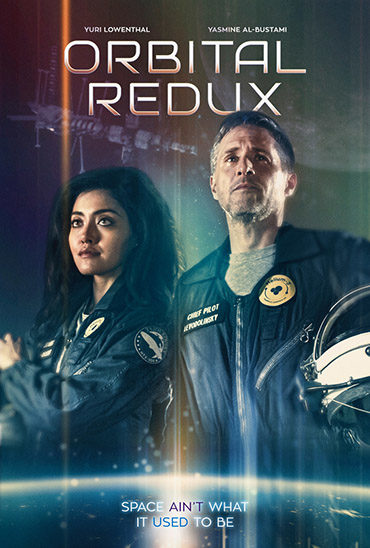 Science-Fiction
Orbital Redux
8 episodes. TRT: ~2hrs 23min
The Year is 2050. Space ain't what it used to be.
On yet another delivery mission to the moon, a washed-up astronaut gets stuck with a trainee he can't stand. When everything goes wrong they must rely on one another to survive.
Space used to be cool. Back in 2028, Zachery "Max" Levodolinksy joined a sterling class of NASA astronauts. But a decade later NASA ran out of funding and all the hero jobs went away. Now Max is 45 years old and he's captaining a heap-of-junk orbital tanker on a weekly Helium-3 run to the moon and back again. Rampant computer viruses mean nothing can be automated. Space-qualified pilots are still needed... but just barely.
After ten years of thankless orbital transpo, Max's company throws a new pilot his way for training: Tomasina "Tommie" al-Qasimi. She's 25, full of fresh enthusiasm and way too much confidence as she works to prove herself. And when the latest redux goes very, very wrong they will have to work together if they want to survive. No pressure, right?
Lead (Max), Executive Producer -
Yuri is best known for his work in video games (Marvel's Spider-Man, Prince of Persia, Uncharted) and animation (Ben 10, Young Justice, Naruto), but also works in TV (Terminator: The Sarah Connor Chronicles, Hawaii 5-0), film (Any Bullet Will Do, Silver Case) and theatre (Taste, Something Truly Monstrous). He is also a producer known for the films Tumbling After and Con Artists, and the series Shelf Life (with Butcher Bird Studios), and a writer (Tough City, Voice-Over Voice Actor). He is a lifelong fan of science fiction and telling stories.
Read More
Lead (Tommie) -
Yasmine was born in Abu Dhabi and raised in Texas (she loves brisket and queso and says y'all a lot). Check her out as Sasha in CW Seed and New Form Digital's original musical series I Ship It. She also played the lead in John Legend's music video "Surefire." Previous appearances have been on The CW's The Originals, CMT's Nashville and Freeform's Switched at Birth. Coming up, you'll be able to see her on NCIS: Hawai'i. Random Facts: can parallel park the shi** out of a car, was sent to Jordan to live for a year at 13 because she was "too Americanized," but boy, does she now love everything Texas, i.e. Dallas Cowboys, Whataburger and Shiner Bock.
Read More